Holzmaserung Effekt Wärmeübertragung Grundierung Pulverbeschichtung
Jinhu Farbe Powder Coating co., Ltd hat mehr als 30 Jahre Erfahrung bei der Herstellung der Pulverfarbe. Mit erfahrenen Technologie haben wir einen guten Ruf im In-und Ausland erreicht. Die Produkte haben die Anforderungen von ISO, BV und RoHS erfüllt. Und wir glauben, dass bessere Zukunft aus einem besseren Service kommt!
SORTIEREN NACH CHEMIE:
Epoxy Powder Coating

Excellent Anti-Corrosion
Excellent chemical resistance
High mechanical performance
Recommended for interior

Epoxy-Polyester/Hybrid

Good chemical resistance
Good mechanical property
Excellent flexibility
Recommended for interior

Polyester-TGIC

Excellent UV resistance
Excellent flexibility
Excellent overbake stability
Recommended for exterior

Polyester TGIC-Free

Excellent UV resistance
Excellent flexibility
Good overbake stability
Recommended for exterior

Polyurethane

Excellent anti-corrosion
Excellent flexibility
Excellent smoothness
Suitable for exterior/interior
SORTIEREN NACH ENDE ODER CHARAKTERISTIK:
Anti-Gasing-Pulverbeschichtung Anti-Graffiti-Pulverbeschichtung
Antimikrobielle Pulverbeschichtung Chrome Effect Pulverbeschichtung
Krokodilleder Pulverbeschichtung Hochtemperaturbeständig
Metallic- / Peal-Pulverbeschichtungs-Sublimations-Pulverbeschichtung
Textur Effekt Pulverbeschichtung Transparent Klar Decklacke
Holz Effekt Pulverbeschichtung Zink Rich Epoxy Primer
Vorteile von Pulverlacken:
• Zähe, dauerhafte und dauerhafte Beschichtung von Metallen. Ausgezeichnete Härte und Abrieb / Schlagzähigkeit ergibt eine verbesserte Produktleistung gegenüber den meisten flüssigen Beschichtungen.
• Große Auswahl an Farben.
• Umweltfreundliche Outsourcing-Option, um die Zulassung für lösemittelhaltige Farben zu vermeiden.
• Weniger Prozessschwankungen führen zu konsistenter Farbe und Aussehen des Produkts.
• Hohe Filmaufbauten und hervorragende Kantenabdeckung ergeben eine bessere Korrosionsbeständigkeit
Vorbehandlung.
• Beschichtungen können leicht für spezifische Anwendungen wie längere Sonneneinstrahlung, die Fähigkeit, in stark korrosiven Umgebungen zu überleben, Flexibilität für die Bildung nach der Beschichtung oder hohe Haltbarkeit und Beständigkeit gegen Absplittern formuliert werden.
Beschichtete Substrate:



Cold Rolled/Hot Rolled Steel

Galvanized Steel

Iron Castings

Zinc Castings

Copper/Brass

Magnesium

Aluminum Extrusions and Castings

Rare Earth Magnets (NdFeB)

NiZn Plated Steel

Stainless Steel

Powder Metallurgy Parts

Some Non-Metallics



Wir bieten Pulverbeschichtungsfähigkeiten, die ein breites Spektrum an Farben, Stärken, Texturen, Weichheit, Kantenbedeckungen, Flexibilitäten, Bearbeitbarkeiten, Glätte und Temperaturbereichen umfassen.
Pulverbeschichtung passt Ihr Produkt:
"Environment Solution "
Excellent Impact and Mar Resistance
Variable Thickness
Excellent Weatherabilty
Colors, Textures, Gloss Level Option
Filmperformance
Test Item

Test standard and Method

Test index

Impact resistance

GB/T 1732 -1993

ISO6272

50kg·cm

Adhension(cross-cut)

GB/T 9286 - 1998

ISO2409

Class 0

Flexibility

GB/T 6742-1986

ISO1519

2mm

Pencil hardness

GB/T 6739-1996

ISO2815

1H-2H

Cupping test

GB/T 9753-1988

ISO1520

6mm

Salt spray resistance

GB/T 1771-1991

ISO7253

>400 Hours

Heat & humidity resistance

GB/T 1740-1979

ISO6270

>500 Hours,film gloss slightly lose

Note: 1. Above test are using 0.30mm thickness degreased, rust removed cold rolling steel plate, film thickness is 60-80um.

2. Film performance may slightly decrease with gloss decrease.
Hochglanz (> 85%), Glänzend (76-85%), Halbglanz (50-75%),
Sub-Glanz (20-50%) und Matt (<20%)
Lagerung und Versand
Die Transferpulverbeschichtungslack muss unter 25 ° C mit der Temperatur in belüfteten, trockenen und sauberen Raum gelagert werden, halten Sie es weg von Feuer, Hitze und direkter Sonneneinstrahlung. Stapeln im Freien ist verboten. Vermeiden Sie Regen und Sonneneinstrahlung während des Versands.
Gesundheit und Sicherheit
Die Transfer-Pulverbeschichtung enthält keine gefährlichen Inhaltsstoffe. Tragen einer Staubschutzmaske und einer Schutzbrille, um das Einatmen von Staub zu vermeiden. Versuchen Sie am besten, den Langzeitkontakt mit Pulver zu vermeiden. Der Überzugskleber auf der Haut kann mit Seife gewaschen werden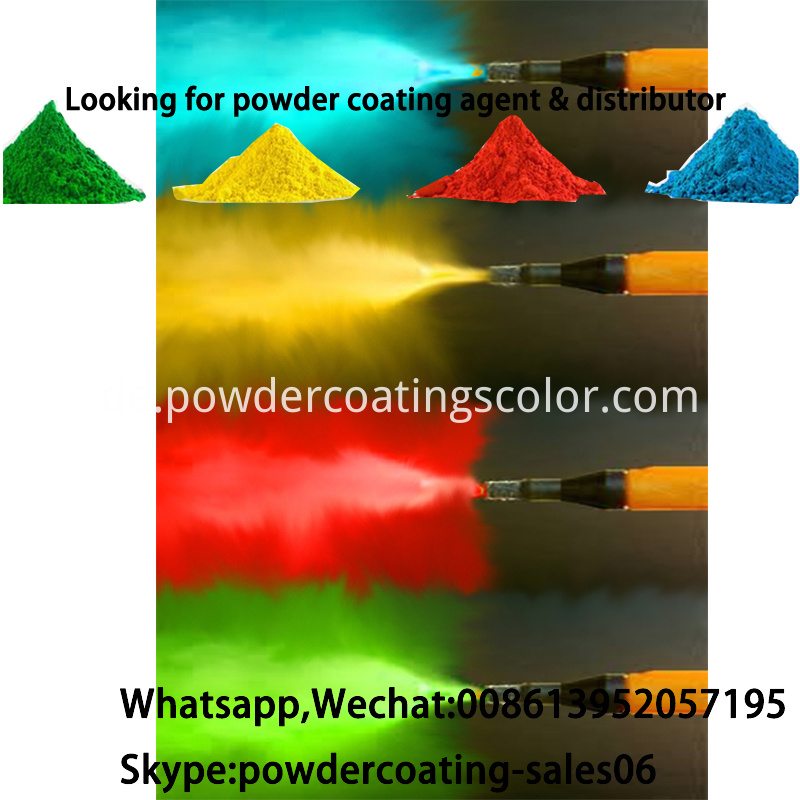 Produktgruppe : Polyester-Pulverbeschichtung